Warming new dishes for winter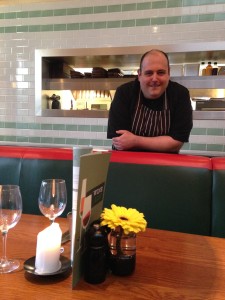 Our rather talented head chef David has launched his new menu for the season bringing you a selection of hearty and warming dishes that insulate against the winter weather.
His new season's best of British menu really reflects David's honest approach to food, his love of big, bold flavours, and his many years as a chef working in quality restaurants across the county and further afield in London and Australia.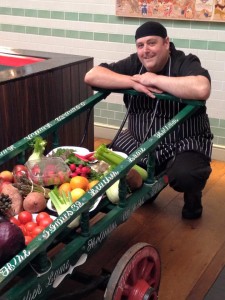 David came to us in spring of this year, since when he has been quietly getting on with the job of raising standards and making the pub's food the best it possibly can be.  He joined from The Noke Thistle St Albans and was previously at The Royal Chace Hotel Enfield, where his fantastic food helped both establishments gain two and one Rosettes, respectively.
David only ever wanted to be a chef.  He grew up surrounded by good, home cooked food and applied to West Herts College to study professional cookery, quickly becoming a star student and earning the titles of Best Student and Best Chef in his final year in 2000.
After a stint working with Alistair Little in Soho and Ladbroke Grove, he gained a coveted place on a Compass chef development programme, cooking at many of their top venues including Roux Fine Dining at Tower 42.  Following a working holiday in Australia, he came back to cook locally at The White Hart in his home town of Old Hemel and in 2005 beat 1400 other chefs in the company to win the Punch Shine Award for his food.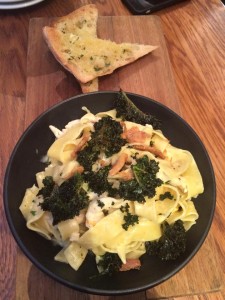 Now with his feet firmly under the table here, David and his team are turning out fresh seasonal dishes that are consistently good.  Just some of his tempting dishes on offer this winter are starters of Game Terrine, Spiced Apple Chutney & Toasted Bloomer and Free-range Chicken with Tagliatelle, Wholegrain Mustard Cream, and Crispy Kale. Mains include Venison Hot Pot & Braised Red Cabbage, Enderby Smoked Haddock & Whole Grain Mustard Fishcake with Creamed Leeks and Slow-cooked Shoulder of Cornish Lamb, Roasted Squash & Spinach with Mint Jus.
David's desserts are also delicious.  There's indulgent Sticky Toffee & Banana Pudding with Toffee Sauce and Malted Banana Ice Cream; Pear, Almond & Amaretto Trifle and a delectable Iced Hazelnut Parfait & Chocolate Sauce.
If you're popping in for an evening drink and feeling peckish, don't miss David's irresistible menu of bar snacks that's served until late into the evening.  Home-made sausage rolls with caramelised onions and brown sauce, pork scratchings with apple and cider brandy sauce and honey mustard glazed ribs are perfect to fend off those late night munchies.
Book a table or pop in for some of David's fantastic food soon.